Dr Karl is the author of 46 books with more on the way.
Dr Karl's first book, Great Moments In Science was released back in 1985. His 46th book, 'Dr Karl's Surfing Safari Through Science' and 45th book 'Dr Karl's Random Road Trip Through Science' were released in October 2020 and 2019 respectively and are the first of his books to come with pop-up holograms (or augmented reality). He released two kids' activity books 'Dr Karl's Little Book of Dinos' and 'Dr Karl's Little Books of Space' in June 2017.
There are now a big range of Dr Karl books available as eBooks on Amazon.com. Check them out here.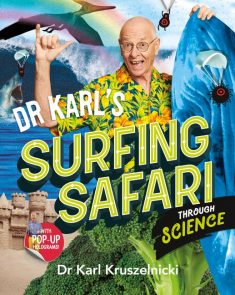 Australia's favourite science guru returns with a new haul of extraordinary stories from our incredible Universe – includes pop-up Dr Karl holograms!
Dr Karl is surfing the Universe for all that's gnarly, awesome, weird and wonderful.
Why is sharpening a pencil in space a risky business?
What makes a sunset red and not blue?
How far would the Earth's viruses reach if you laid them end to end?
Which animal grows an anus every time it needs to poo?
Find out how spiders can fly and count, whether 5G networks are safe, why we're running out of sand, and the answer to the Question on Everyone's Lips – how to make the best coffee.
Plus loads more, including pop-up Karl holograms!
So take a surfing safari with Dr Karl and get ready to Hang Ten – or wipe out.
Find out where you can buy this now